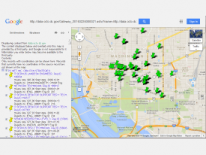 DC GIS continues to integrate and work with Google technology to improve services. The District of Columbia's comprehensive geospatial data warehouse is now available within Google, Inc's visualization software, Google Earth. The familiar interface enables users of any technical sophistication level to use publicly available DC GIS data.
Or visit the DC's Data Catalog.
DC GIS recognizes several advantages to using Google technology:
Responsive performance.
Scalability to large numbers of users.
Familiar and intuitive user interface.
Easy to integrate to sophisticated back-end spatial processing and data validation.
Existing GIS software can direct processed data to the intuitive public mapping API.
Easy to keep up with technology advances (Google Earth and Virtual Earth advance full version in just months).
Ability to easily integrate existing DC GIS web services.