One Judiciary Square - This office will reopen on a modified schedule beginning Monday, July 19, 2021 at 10am.
*This office will be closed Monday, January 10, 2022. Normal operations will resume Monday, January 17, 2022. We apologize for the inconvenience.*
441 4th Stre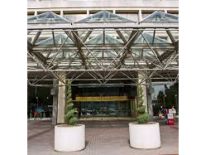 et, NW, Lobby Level, Washington, DC 20001
Office Hours: Mondays, 10am to 2pm (except District holidays). Phone: (202) 727-6030
Deanwood Recreation Center - The DC One Card office will reopen on a modified schedule beginning Wednesday, July 21, 2021 at 12pm.
1350 49th Street, NE, Washington, DC 20019
Office Hours: Wednesdays,12pm to 6pm (except District holidays). Phone: (202) 727-0128
Please visit our website at www.dconecard.dc.gov or contact (202) 727-6030, for further information.
Please visit DPR for upcoming facility closures.
Contact DC One Card
You may call the DC One Card Helpline at (202) 727-6030.