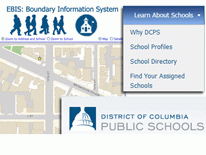 EBIS finds schools assigned to a particular address based on the approved DCPS attendance boundaries. You may have an additional assigned school for the next grade level based on the school you currently attend.
Launch the DCPS Feeder School Locator.
If EBIS finds more than one school assigned to your address at a particular grade level, you have a right to attend any of these schools for that grade level. This typically occurs for addresses assigned to schools that were closed in 2008.
For more information, please visit the DCPS website.
Launch the EBIS - Boundary Information System.
Office Hours:
Monday to Friday, 9 am to 5 pm