Partnership with Business Community Helps Streamline DC Licensure Process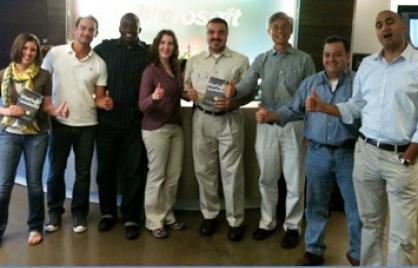 Washington, DC - Deputy Mayor for Planning and Economic Development Victor Hoskins and District Chief Technology Officer (CTO) Rob Mancini announced today that a District government team focused on minimizing regulatory burdens and advancing growth for startups placed third at the Kauffman Foundation-sponsored Startup Weekend E-Government.
Staff from the District Department of Small and Local Business Development (DSLBD), Department of Employment Services (DOES) and Consumer and Regulatory Affairs (DCRA) pitched five ideas to DC's tech community. With more than 20 votes from participants, DSLBD's "Business One Stop" idea was selected to advance in the weekend-long startup competition. In collaboration with local entrepreneurs and mentors, Team DC created a commercially viable plan and product to streamline the District's business licensure process and help startups grow. The team included innovators from the Office of the Chief Technology Officer (OCTO) and Deputy Mayor's Office for Planning and Economic Development (DMPED), who spearheaded the city's participation in the event.
Team DC's final product was an online portal where entrepreneurs could enter their corporate, business and tax registration information in one place. The portal would be integrated with all relevant DC agency systems. The portal would also provide customized maps with incentives, zoning, and the location of similar businesses to aid in site selection. Finally, the portal would provide information to help a business grow through training, contracts, and access to capital.
"Startup Weekend provided the District government an excellent opportunity to partner with the local technology and business communities on identifying innovative solutions to issues that impact the way businesses are established and run in the nation's capital," said DC Deputy Mayor for Planning and Economic Development Victor Hoskins. "Creating a simpler and more efficient license process will surely attract new businesses to the city, and provide further incentive for existing companies to stay."
Startup Weekend is a 54-hour event where developers, designers, marketers, product managers and startup enthusiasts come together to share ideas, form teams, build products, and launch startups.
"I'm hoping this event opens the door for additional opportunities for the District to collaborate with the local tech community," said District CTO Rob Mancini. "Our Citywide Data Warehouse provides nearly 500 datasets to the public. Developers and entrepreneurs are already using this free information to build and enhance their businesses. In this instance they used our data to help enhance our government, and that benefits everyone."
Startup Weekend E-Government was the second-ever pilot event focused on fostering innovation and entrepreneurship in the public sector. The event focused on improving government efficiency, civic engagement, and reducing barriers to accessing government resources. Twelve teams presented demonstrations for socially conscious startups with missions such as accessing healthy food and improving federal procurement. The District was the only jurisdiction invited to participate in the competition. Viable companies will compete for investment funding and possibly create job opportunities in DC.
Participation in Startup Weekend E-Government is the most recent endeavor in the District's efforts to support and grow DC's technology sector. Mayor Gray recently proposed legislation to modify the DC Tech Incentives program and to retain LivingSocial's consolidated headquarters and growth. The District also partnered with DC-based startup newBrandAnalytics, to provide a transparent online government service rating, Grade.DC.Gov.
To learn more about Startup Weekend, visit startupweekend.org.