Thursday, November 5, 2015
Connect.DC Program Selected as Winner for First Digital Inclusion Leadership Awards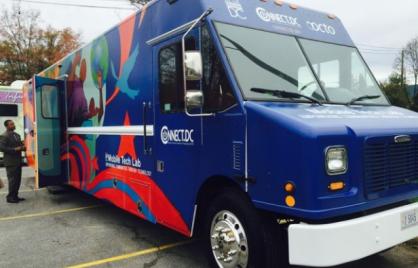 Nashville, Tenn. – The Government of the District of Columbia's Mobile Technology Lab (MTL) initiative was selected as one of six winners of the inaugural Digital Inclusion Leadership Awards, presented by Next Century Cities, the National League of Cities, and Google Fiber at the National League of Cities Congress of Cities event in Nashville, TN.
The MTL initiative, part of the Office of the Chief Technology Officer's (OCTO) ConnectDC digital inclusion program, was selected from among more than 30 submissions as the most innovative approach award winner for the Leader in Most Promising New Plan award.
The Digital Inclusion Leadership Awards featured two categories, with two overall winners selected in each category and an additional entrant in each category receiving recognition for an innovative approach.
OCTO's ConnectDC program started revving up the new mobile lab on Monday, with the 48-foot converted bookmobile equipped with laptops and Wi-Fi now ready to start hosting digital and financial literacy classes around the nation's capital.
Delano Squires, the ConnectDC's director, said his staff worked for the better part of the last year to redesign and renovate the vehicle, and now they plan to partner with other city agencies and local nonprofits to reach people who might not otherwise get access to computer-based classes.
"Now we have the capacity to really, really do some serious good, particularly in low-income neighborhoods in D.C.," Squires said.
The categories, the Leader in Digital Inclusion Best Practices and the Most Promising New Plan awards, recognize established and newly-launched or planned programs, respectively. The Digital Inclusion Leadership Awards celebrate city governments who are leading programs or empowering community-based organizations to tackle barriers to Internet adoption.
Around 25 percent of US households or approximately 60 million Americans don't have Internet in their homes. Families affected by the digital divide, many of whom are from lower-income neighborhoods, are at a disadvantage when it comes to doing homework, applying for jobs or staying in touch with loved ones. Whether cities are leading or partnering on programs, city governments have a major role to play in getting residents the digital access and resources they need.