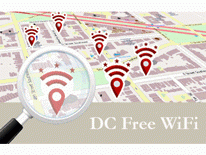 A "hotspot" is a site where anyone with a computer or other device with Wi-Fi capability can come and browse the Internet for free using the District's wireless network. OCTO has installed hotspots in every Ward to provide convenient, citywide Wi-Fi Internet access for all.
To help people get to the hotspots, OCTO created a simple mapping application that displays all the wi-fi hotspots and information about each hotspot site.
Find Wi-Fi Hotspots.
Office Hours:
Monday to Friday, 9 am to 5 pm