Tuesday, September 18, 2018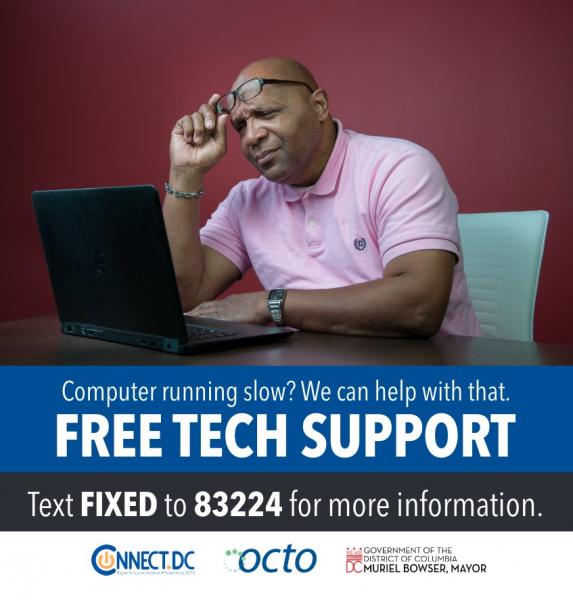 (WASHINGTON, DC) – For the last two Saturdays in September, DC residents will be able to receive free tech support from the DC Office of the Chief Technology Officer (OCTO), Connect.DC and the technicians at OCTOhelps.
One of the most important things a person needs to fully access technology is a functioning computer. Unfortunately, the cost of computer or cellphone repair is too high for many District residents. All Hands On Tech is designed to make sure that high technology repair costs are not a barrier to much-needed tech help.
All Hands On Tech services will include laptop repairs, virus assistance, and smartphone troubleshooting. These events are FREE and for District of Columbia residents only. Proof of residency is required to participate. A Spanish translator will be available at each event.
Interested residents can text FIXED to 83224 or visit connect.dc.gov/free-tech-support for details and to pre-register.
EVENT DETAILS:
Saturday, September 22th
10:30am – 3:00pm
Anacostia Library
1800 Good Hope Road SE

Saturday, September 29th
10:30am – 3:00pm
Benning (Dorothy I. Height) Library
3935 Benning Road NE
About Connect.DC
Created by the Office of the Chief Technology Officer (OCTO), Connect.DC works to bridge this digital divide by making technology easier to use, more accessible, more affordable, and more relevant to the everyday lives of District residents. Together with our partners, we are working to ensure District residents can take full advantage of everything technology has to offer.