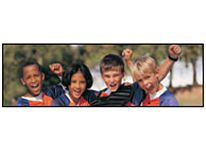 The DC One Card makes accessing services easier and more convenient for District residents. With this single identification card, children, adults and seniors can utilize multiple DC government programs and facilities.
Gain Access to Schools and Recreation Centers
Use your DC One Card to gain unlimited access to the Department of Parks and Recreation (DPR) programs and services. To find out what's happening at your local recreation center, visit
DC Department of Parks and Recreation (DPR)
.
Checkout Books at DC Public Libraries
Access the Metro
The DC One Card with SmarTrip® technology is a permanent, rechargeable farecard. It's plastic - like a credit card - and is embedded with a special computer chip that keeps track of the value of the card.
A SmarTrip® enabled DC One Card is used in place of a Metrorail paper farecard on Metrorail and cash/tokens on a Metrobus. Each rider must have his/her own DC One Card, farecard or pass.

The benefits of using SmarTrip® include:
Using your SmarTrip®-enabled DC One Card is easy and fast! Instead of inserting a farecard through the Metrorail faregate slot, you simply touch the SmarTrip® DC One Card to the circular target panels on top of or inside station faregates. Likewise, you can tap the SmarTrip® farebox on Metrobus to pay your fare with SmarTrip. For more information, see SmarTrip® on Metrobus.
Your SmarTrip®-enabled DC One Card is issued with a $0 balance, but you may add money at any WMATA station, up to $300 in Metro value on a SmarTrip® DC One Card (so it can last a long time between charging). You may also add value by using a credit card or debit card.
You may transfer the value of a used farecard or Metrocheck (worth $7 or less) or an unused Metrocheck or farecard of any value onto a SmarTrip® enabled DC One Card. Each trade-in requires a separate transaction.
The remaining value on a registered SmarTrip® enabled DC One Card that is lost or stolen can be replaced when reported. Cash refunds are not available.
Claim Your Electronic Fare Adjustment Using SmartBenefits*.
Visit the WMATA website for more information on WMATA SmarTrip®, only.
DDOT Student Transit Subsidy Program
Contact DC One Card
You may call the DC One Card Helpline at (202) 727-6030.