DC Atlas Plus – Connecting DC's "Where" with "What" via Interactive Maps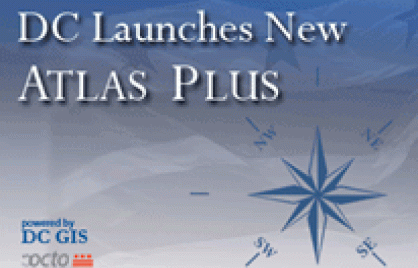 The District's Office of the Chief Technology Officer announced today the launch of its new DC Atlas Plus online mapping application. The app allows users to search and identify over 300 different types of data, from aerial photography and demographics to property and transportation - making it an all-inclusive point of reference for DC geographic information."With just a street address, intersection or a point of interest, you can view maps and perform your own analysis on a wide variety of data in the city," said DC Chief Technology Officer, Rob Mancini. "Not only does this enhanced app make it possible for users to find critical information on their own terms, it demonstrates the Mayor's ongoing effort to make our city a rapid technology adopter that delivers transparency and accessibility."
DC Atlas Plus offers a significant revamping of its predecessor, Atlas All-in-One. The new app uses the latest online technology for easier navigation, movable menus, quick refresh and a robust backend system. The most notable enhancements are continuous data updates, improved analysis tools, ease of usability and some of the most frequently requested tools. One of these features includes "My Maps," which allows users to save and view maps as a bookmark. In addition, saved maps can be shared via email or printed in multiple formats.
DC Atlas Plus is made possible through ongoing data-sharing between several District government agencies. It is a collaborative effort to give residents, students, businesses and visitors the latest of what DC has to offer. This interactive online map gives the ability to not only see where layers are in relation to each other, but it connects users with the data and what they are.
Start viewing maps and researching data by visiting http://atlasplus.dcgis.dc.gov on your computer or iPad. It is accessible through multiple Internet browsers, including Chrome, Firefox, Internet Explorer and Safari. For detailed instructions on how to use DC Atlas Plus, there is a comprehensive guide located in the Help menu or contact [email protected].