Selection due to commitment toward embracing next-generation smart city technologies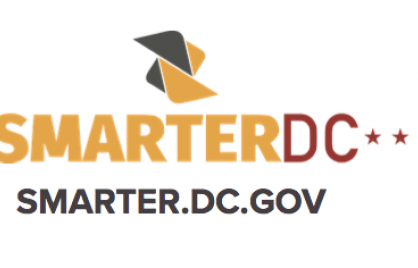 (WASHINGTON, DC) – US Ignite announced the expansion of a national network of Smart Gigabit Communities (SGC) to include Washington, DC. The SGC program aims to accelerate the adoption of ultra-fast, programmable fiber and wireless networks as the bedrock of smart communities by identifying new economic and social opportunities created by those networks. Washington, DC was selected due to its significant commitment toward embracing next-generation smart city and Internet technologies to keep pace with the world's rapidly changing technology and economy, as demonstrated through the Office of the Chief Technology Officer's (OCTO) SmarterDC initiative.
"OCTO is thrilled to be added to US Ignite's Smart Gigabit Communities' list to further expand our city's SmarterDC plans," said Chief Technology Officer Archana Vemulapalli. "There are currently smart city projects in different stages in our pipeline and with the added collaboration from the SGC program, we hope to safely and efficiently accelerate pilot projects.
The District was further selected base on smart community efforts that leverage intelligent city infrastructure, including connected devices, sensors, and data analytics to improve the quality of life for residents, enhance economic growth, and address city challenges. This selection also considered current smart city initiatives to include Smart Waste Management, Movement Analytics, and Water Quality Sensing.
The SGC program facilitates collaboration among municipalities, network carriers and other corporate partners, nonprofit organizations, and the university research community. Together, these organizations work to develop smart gigabit applications that address local community needs, including education, workforce development, public safety, community health, smart energy, and transportation. Each SGC will develop two gigabit applications or gigabit services per year that provide advanced technology solutions to issues faced by that community.
Gigabit applications take advantage of the 100x increase in Internet power that comes from deploying gigabit Internet access to homes, small businesses, healthcare facilities, schools, libraries, and museums. Each community will share its applications or services with other members of the SGC network. This will enable communities to build on the innovations of the entire network.
Other cities included in this list are Albuquerque, New Mexico; Jackson, Tennessee; Phoenix, Arizona; and San Diego, California.
Read more on the US Ignite Website and https://www.us-ignite.org/news/us-ignite-announces-5-new-smart-gigabit-communities/ and on the #SmarterDC website at smarter.dc.gov.