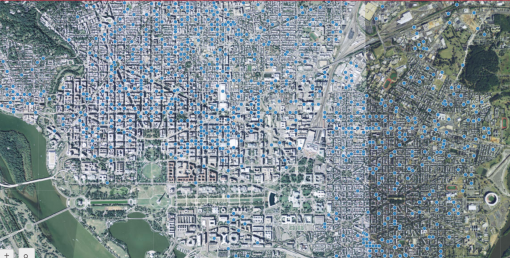 Mayor Muriel Bowser's January 12 announcement of a Draft Open Data Policy marked a renewal of DC Government's commitment to openness, transparency, and collaboration. During the month-long comment period, the policy drew approximately 1500 unique online visitors. 35 members of the public — including open government advocates, community leaders, researchers, and business owners — shared their thoughts and discussed the policy with one another directly on the website and dozens more provided feedback through social media, email, phone, and in person.
Altogether, the policy received over 250 formal comments and annotations. Two commenters went on to write excellent in-depth responses. Since the month-long comment period ended in mid-February, we have been reviewing the feedback and that review is nearly complete.
The policy was also the first document published by DC's Executive Branch to drafts.dc.gov, a platform that lets the public comment and discuss proposed policies and legislation with one another. The platform Madison platform, which the website runs on, is open source and has been continuously improved throughout the comment period based on feedback from users. Many users sent issue reports and feature requests to the OpenGov Foundation team which maintains the platform and has provided it free of charge to the District.
"The responses to the policy were universally thoughtful and public spirited," Acting Chief Technology Officer Archana Vemulapalli said. "We're grateful for the critical eye commenters brought to making their city truly open."
Commenters pointed out jargon, typos, and problematic language, and shared ideas from other municipalities. Based on our first pass review, most feedback fell into the following categories:
Creating a culture of openness in government. Commenters offered existing models, discussed the right administrative structure (what new roles are needed, where they should sit, and who should fill them), and emphasized the need to support plans with a budget. They also suggested the need for other policy and legislation to complement this policy.
Involving the community. The need to make community involvement a core principal came through clearly. Not only are there many local residents with a background in open government and civic technology (many of whom shared their thoughts on the policy), commenters stressed that the data being released should prioritize the community's needs. That means defining "data" so that it is sufficiently inclusive, delivering the important data first, applying an open license, and putting it all on a platform that maximizes usability for all residents.
Protecting the right information and releasing the rest. Although some data cannot be made public (in particular, data that can impact personal privacy), many commenters felt the definition of "protected data" was vague. They asked for clearer wording that is less open to interpretation.
What happens next?
Over the next month, we will fully review and revise the Draft Policy to address all of the feedback and questions we received. Subject matter experts, including the Open Government Advisory Group, will provide input throughout this process. Once this second review period is over we are going to work closely to determine the appropriate, most efficient next steps to formalize the policy.
We will continue our collaboration with the OpenGovFoundation on building out the drafts.dc.gov site. If you have feedback on how the site can be improved, you can leave issue reports and feature requests in its public codebase.
We are also reflecting on ways in which we can broaden our communication channels — both online and in-person — and to talk about the policy in ways meaningful to District residents.
Note: This post is also live on our Medium blog @OCTODC. Or follow us on Twitter to stay up to date.