The digital divide has been a topic of conversation for many years, especially as technology has become more infused in our everyday lives. I know because I have been leading Connect.DC, DC Government's digital inclusion program, for almost a decade. I have seen the emphasis of policymakers shift from the home broadband adoption disparities that characterized digital divide discussions in 2010 to the digital skills needed to fully participate in a 21st-century digital economy.
Many District of Columbia residents in Wards 7 and 8 have broadband-enabled smartphones but less than 60% of households in those two wards have home broadband service. Contrast that to many of us who have multiple smartphones, tablets, smart watches, and lightning-fast broadband access at home and at work. These disparities in technology access and use between the have-lots and have-nots impact a young father's ability to find a new job, a grandmother's ability to keep in touch with her grandchildren, and a student's ability to finish a homework assignment.
The public sector response to disparities in digital skills, which are every bit as important today as literacy and numeracy, has been significant and sustained. The District of Columbia used Federal grant funding to make critical investments in broadband infrastructure, digital literacy training, broadband data and mapping, and public technology resources. The DC Office of the Chief Technology Officer created Connect.DC in 2011 using the same funds to address other barriers to broadband adoption -- like relevance and digital skills -- and reach the groups most likely be offline. Since then we have partnered with other government agencies and local nonprofits to create a comprehensive and sustainable approach to digital inclusion. We fund technology training for K-12 students, adults, and seniors. One of our local nonprofit partners, Byte Back, teaches digital literacy to seniors and returning citizens as well as technology certification classes people seeking careers in the IT field.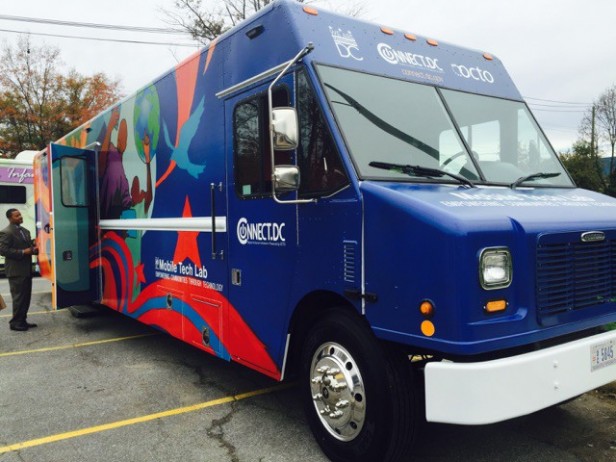 We promote affordable home internet service, such as the Internet Essentials program from Comcast that offers home internet for $9.95 per month, and provide free tech support to residents who have a computer at home but can't afford the cost of removing a virus or purchasing a new device. We also invest extensive resources in community outreach and promote our programs through ads in public transit, on radio, in print and through text messaging. And we created a Mobile Tech Lab that allows us to take our programs to public housing communities and senior centers and a digital citizenship guide that ties technology access to the most important areas of our everyday lives.
The majority of the residents who we reach and access our services on a yearly basis are low-income and disproportionately likely to be offline. The work we do in DC mirrors the fight for digital equity across the country. The National Digital Inclusion Alliance (NDIA), an affiliation of public and nonprofit digital inclusion practitioners, is amplifying this work during Digital Inclusion Week (October 7 - 11). In addition to helping members highlight local issues share best practices, NDIA also was a driving force behind the Digital Equity Act of 2019, a bill that would authorize more than $1 billion in Federal grant funding over the next five years to support digital inclusion programs throughout U.S. states, territories, and the District of Columbia.
Broadband technology has fundamentally changed how we work, play, and live. But like any issue that has such transformative effects on society, the full impact of these changes has not gone unquestioned. While some school districts are bringing more technology into the classroom and drawing attention to the impact of internet access on the "homework gap" for low-income students, other schools serving more affluent families are limiting the amount of time their children spend on devices because of concerns about the effect too much screen time has on interpersonal skills and social interaction.
The push and pull of technology's immense benefits and observable costs will evolve as our devices become faster, more powerful, and more ubiquitous. But the prospects of returning to a pre-digital era are slim. That means that an even greater emphasis must be placed on linking internet access, computer hardware and digital skills to the types of content and activities that allow people to flourish. As the nation's capital, the District of Columbia must continue to serve as an example of how government investments, nonprofit programs, and public-private partnerships can be leveraged to support innovative technology initiatives and ensure full digital citizenship for all.
Delano Squires is Director of Connect.DC - a Digital Inclusion Initiative run within the Office of the Chief Technology Officer (OCTO).