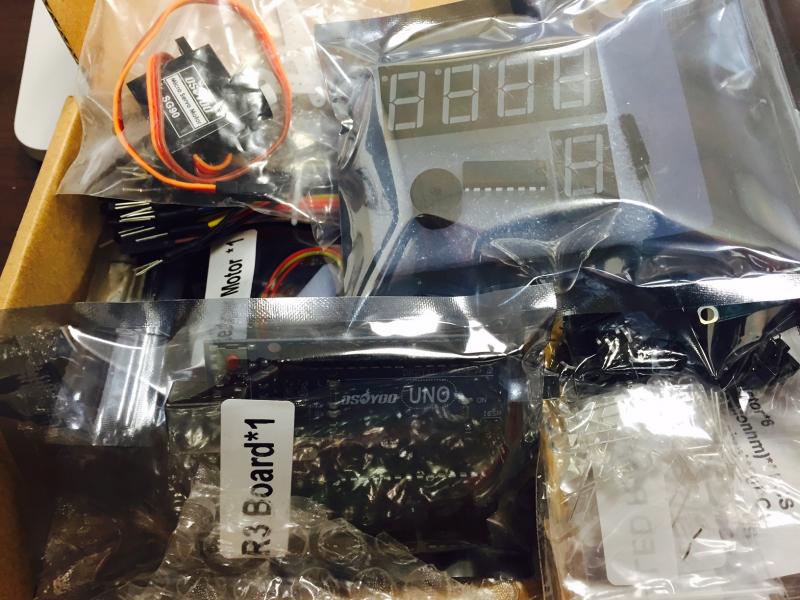 Today, Acting Chief Technology Officer (CTO) Archana Vemulapalli issued the "Arduino Challenge" to more than 40 McKinley Technology High School as part of the new speaker series "OCTO Speaks" which brings government and private sector IT leaders into classrooms across the District.
Each student was given an Arduino Starter Kit with an Arduino compatible board, temperature sensors, light sensors, LED displays, motors and much more. The students were then asked to complete a series of 5 Do-It-Yourself beginner-level projects.
"We want to introduce students to some of the best and brightest IT leaders from across the area," Vemulapalli said. "But we also want to help students get their hands on the technology - use it, learn how it works and hopefully inspire them to continue forward or move into STEM fields."
DIY Projects
The projects include:
Once the students complete each project, they were asked to send a photo or short video of each challenge completed to:
Once the 5 tasks are completed, students are asked to complete their own project - on their own or using online directions - and submit to OCTO as well. OCTO officials will return in 3-4 weeks to announce the winner. All entries must be received by April 8, 2016.
Is There a Prize?
First prize will be a Summer Internship with the Office of the Chief Technology Officer (OCTO).
"We really looking forward to what the students come up with," Vemulapalli said. "This is a very talented group of kids."
So what is Arduino?
Arduino refers to a user community that designs and manufactures computer open-source hardware, open-source software, and microcontroller-based kits for building digital devices and interactive objects that can sense and control physical devices. Arduino is often compared to Raspberry Pi, but they are very different.
About 'OCTO Speaks'
The Office of the Chief Technology Officer (OCTO), in partnership with DC Public Schools (DCPS), launched a new outreach initiative "OCTO Speaks". The speaker series will bring diverse, dynamic and innovative speakers from the Information Technology (IT) community directly to DCPS students, faculty and staff. Our speakers will tell stories, share their expertise and advice, and provide a meaningful discussion and dialogue – and even a few fun technology projects – to the District's future technologists.
The first speaker was Ms. Georgette Kiser, Chief Information Officer (CIO) for the Carlyle Group here in Washington, DC. Ms. Kiser spoke to approximately 45 IT and engineering students at McKinley Technology High School with approximately 45 IT and engineering students.